October Trip to New York City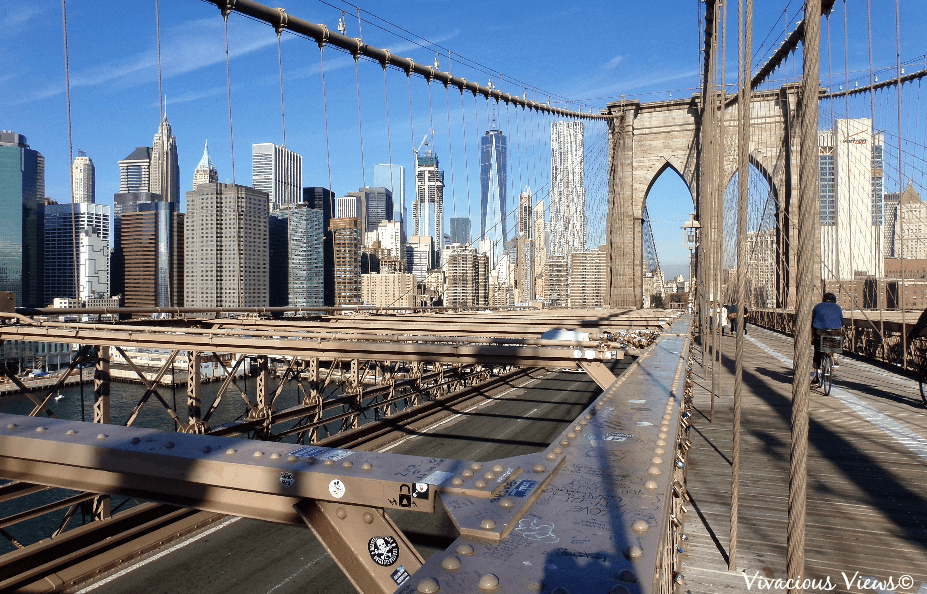 My October Trip to New York City was absolutely amazing!!
I could not have picked a better time of year to go to NYC than Autumn. The fall foliage had started and the air was cool and crisp.
The weather during my stay was 65 degrees and sunny the entire time and the train ride there and back was peaceful and full of fall scenery. 
Even though I did spend an entire day sick with food poisoning during my stay… I can honestly say that I made the most out of my time in the big city!!



This post contains affiliate links, which means I receive a small commission if you make a purchase using these links. It is no additional cost to you and I cross my heart I only recommend products & deals that will help you get the most out of your travel experience.
October Trip to New York City Highlights:
Washington Square Park
Located in Greenwich Village Washington Square Park was crowed with street performers, artists, and tourists taking pictures of the stunning Washington Square Arch.
I sat on a park bench taking pictures while I admired the architecture of this park and the people in it.
I've seen movies, TV shows and dozens of pictures of the arch before, but it was truly a beautiful site to see in person.
Walking Greenwich Village
The first time I walked this neighborhood was on my 2015 December trip to New York. I fell in love with the tranquility of this part of Manhattan.
Each neighborhood is its on little world in the city and Greenwich Village is by far one of my favorites. There is a youthful and vibrate charm to it.
I enjoyed walking in and out of the unique thrift store and shops that speckled this part of the city.
My hotel being located in this neighborhood was just icing on the cake!!
The Jane Hotel
For my first Hostel experience this one was the Crème de la crème.
I had a private room, quite tiny but perfect for one person, with the bathroom facilities located at the end of each floor.
My room included a TV, fan, heat&air, plenty of storage for my luggage, an electronic in room safe that was free, and a small window with an amazing view of the Hudson River and New Jersey.
Click Here for more info on getting the best rates at The Jane Hotel!!
Statue of Liberty
I was able to admire the Statue of Liberty from my hotel bathroom and from several other different spots in the city…including The Hudson river walkway and the Brooklyn Bridge.
She's a beauty and definitely a must see while on a trip to the city!
Chinatown
The awesome thing about walking the streets of New York as oppose to taking a taxi or subway is being able to take a turn and end up in a part of the city you might not have seen before.
It was not my intention to cut through Chinatown to see the Brooklyn Bridge but that's just what happened!!
And it was quite a view to see…banners in Chinese…lanterns lining the streets…and the smell of…garbage. Yeah, it stinks, but it was something very unique to see.
Brooklyn Bridge
On my last day in the city I was finally able to make in down to the Brooklyn Bridge. As I began to walk the bridge I actually got a little teary eyed.
In my opinion of ways to see the New York Skyline this one was my absolute favorite!!
I was able to go live on Facebook while on the bridge to give my viewers a first hand look so be sure to head over to the Vivacious Views Facebook Page to check that out!!

The Food
Leave it to a southern girl like me to go to New York City and stumble across a bar that served the same food from back home.
The Half Pint located in Greenwich Village had delicious BBQ Sliders and their signature Half Pint Beer was a nice touch as I sat outside and enjoyed the feel of the city.
I also had some amazing sushi from SoHo Sushi and a cheese dog from Nathans Famous Hot-dogs that was so messy I had to eat it with a fork!! Gotta love NYC style food!!
Empire State Building
I felt like every time I turned around there was a stunning view of the Empire State Building.
Walking through the city, or the park bench I stopped to rest at on the Brooklyn Bridge had a direct view, and the taxi cab that stopped in traffic gave me a remarkable picture (seen below) of the iconic building.
So if your worried you won't have time to see the Empire State Building, don't, she'll find you.
Yellow Cab/Uber
I took taxis and Uber way more than I expected on this trip.
It did help out a lot when I was in a hurry and I really enjoy the NY taxi experience…makes me feel like a New Yorker for a minute….
At one point I even got in the cab and said, "113 Jane Street and Step On It!!!" when I was running late to check out of my hotel!! Loved it!
Top of the Rock
Let me just say WOW! The views from Top of the Rock at Rockefeller Center are spectacular.
When exiting the elevator onto the rooftop observation deck I immediately was greeted with the view of Central Park. Even though the Fall foliage hadn't quite peaked in the park yet…the views were absolutely stunning.
On the other side of the observation deck are views of Midtown and Downtown. It was absolutely amazing!!!

I hope these highlights will give you great ideas of things you would like to see and do while on a October Trip to New York City!!
Autumn is such a great time to visit the city!!!…and I was lucky enough to have perfect weather throughout my entire trip.
Fingers crossed I can go next year for Thanksgiving and see the Macy's Thanksgiving Day Parade….and possibly check a few more off my Autumn in New York City Bucket List!
Love this Article?! Save it for Later!!…
Related Articles