How to Get the Most Out of Epcot's Flower and Garden Festival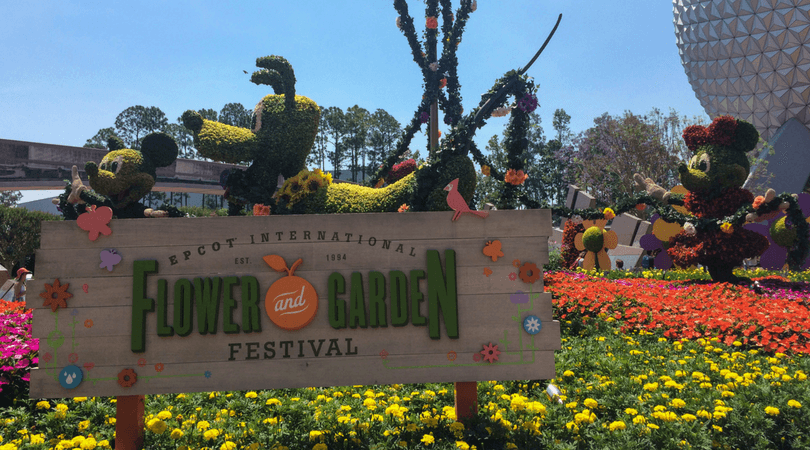 From the stunning topiaries to the outdoor kitchens, Epcot knows how to welcome spring with open arms!
With the Epcot International Flower and Garden Festival in full swing at Disney World, I thought I would take this opportunity to show off what an amazing time we had attending the 2016 and 2017 Festivals, and tell you how you can get the most out of this year's Flower and Garden Festival!
This post contains affiliate links, which means I receive a small commission if you make a purchase using these links. It is no additional cost to you, and I cross my heart I only recommend products and deals that will help you get the most out of your travel/Disney experience.
How to Get the Most Out of Epcot's Flower and Garden Festival:
First things first: grab a park map and times guide as soon as you enter the park.
These will not only help guide you through your day at Epcot, but will also inform you of show times, character appearances, entertainment hours, and more!
Epcot Garden Passport
You will also want to pick up one of these awesome Garden Passports from the Festival Center, Festival Merchandise locations, the Garden areas, or at any of the 13 Outdoor Kitchen locations.
This little bad-boy is the key to the kingdom if you will.
It is a guide to everything that I will mention below and is a really fun souvenir to help you get the most out of the Flower and Garden Festival.
The new addition for 2017's Garden Passport were stickers to mark each destination you visit at the festival!
It makes it feel like a scavenger hunt, which I absolutely loved!
Festival Merchandise
Limited edition shirts, hats, Mickey ears, mugs, cups, canvas bags, backpacks, pin trading, stuff for your garden(of course), plus so much more merchandise with the Epcot Flower and Garden Logo are available during this special event.
Some of the Pins
for this event are Limited Release, which means only a certain amount was made and once they sell out they are gone. If you are a pin collector, like me, you're gonna want to get these pins as soon as you get to the park.
Flower and Garden Gift Card: Flower and Garden gift cards are available at any Festival Merchandise location. Just load money ($15.00 minimum) onto the card and conveniently pay for food, merchandise, and more. The card has a convenient wristband and is also scratch and sniff!! The 2017 gift card smelled like oranges!

Character Meet and Greet
Your Times Guide will show you the times you can meet all of your favorite characters, and your guide map will show you the location of where you can find them.
The newest characters Baymax from Big Hero 6 and Joy&Sadness from Inside Out were introduced in 2016, along with longtime favorites such as Snow White in the Germany Pavilion, Belle in France, and Aladdin&Jasmine in Morocco…just to name a few. 
Outdoor Kitchens
During the Flower and Garden Festival, you can find fresh farm-to-table selections. Located at pop-up kitchens throughout World Showcase….these are an absolute must!
2017 Outdoor Kitchens:
Urban Farm Eats located in Showcase Plaza

Pineapple Promenade  located in Showcase Plaza

Jardin de Fiestas located in Mexico

Lotus House located in China

Bauernmarkt: Farmers Market located in Germany

Primavera Kitchen located in Italy

The Smokehouse: Barbecue and Brews located in The American Adventure

Hanami located in Japan

Taste of Marrakesh located in Morocco

Florida Fresh located between Morocco and France 

Fleur de Lys located in France

New for 2016: La Isla Fresca  located in Showcase Plaza and Cider House located in the United Kingdom 
New for 2017: The Berry Basket located in Showcase Plaza and Northern Bloom located in Canada
Looking for a little extra Disney Magic in your day?!
Topiary Displays and Gardens
The horticulturists at Disney create one-of-a-kind artwork by changing shrubbery into your favorite Disney Characters.
With over a 100+ topiaries to see around Epcot, your best bet is to use your Garden Passport as your guide. It's a lot of fun to check off each topiary one by one as you see them!
The following topiaries are a mix of pictures I took from the 2016 & 2017 Flower and Garden Festival. Some of these topiaries change year-to-year.
Hook was located in the United Kingdom Pavilion of World Showcase in 2016
Both Hook and Tick-Tock Croc were replaced by Tinker Bell for 2017.
Lady and the Tramp can be found in the Italy Pavilion of World Showcase
At night the topiaries and garden displays are illuminated and quite a sight to see…
There are also stunning garden displays set up around the park.
You can also check these off inside your Garden Passport, as well as use your Park Map to find them.
The English Tea Garden can be found in the United Kingdom
The Bonsai Collection can be found in Japan
Live Music
During the Flower and Garden Festival, Epcot hosts a Garden Rocks Concert Series. Every Friday – Monday at 5:30, 6:45, and 8:00 PM, a different "throwback" band performs on the Garden Stage. Located in the America Gardens Theater.
Bands from 2017 Concert Series included Blood, Sweat and Tears, the Plain White T's, and Berlin.
Additional Info:
The Epcot Flower and Garden Festival starts March 1st and ends May 29th, 2017.

The price for this Special Event is included in the price of admission to Epcot. Price is $99.00 plus tax, for Adults 10+. Prices subject to change.

Be sure to Follow the Symbols on your Park Guide to get the most out of your Epcot Flower and Garden experience!
 
Enjoy Your Magical Adventure!!!
Related Articles