Step-by-Step Guide: Planning a Trip to Myrtle Beach, SC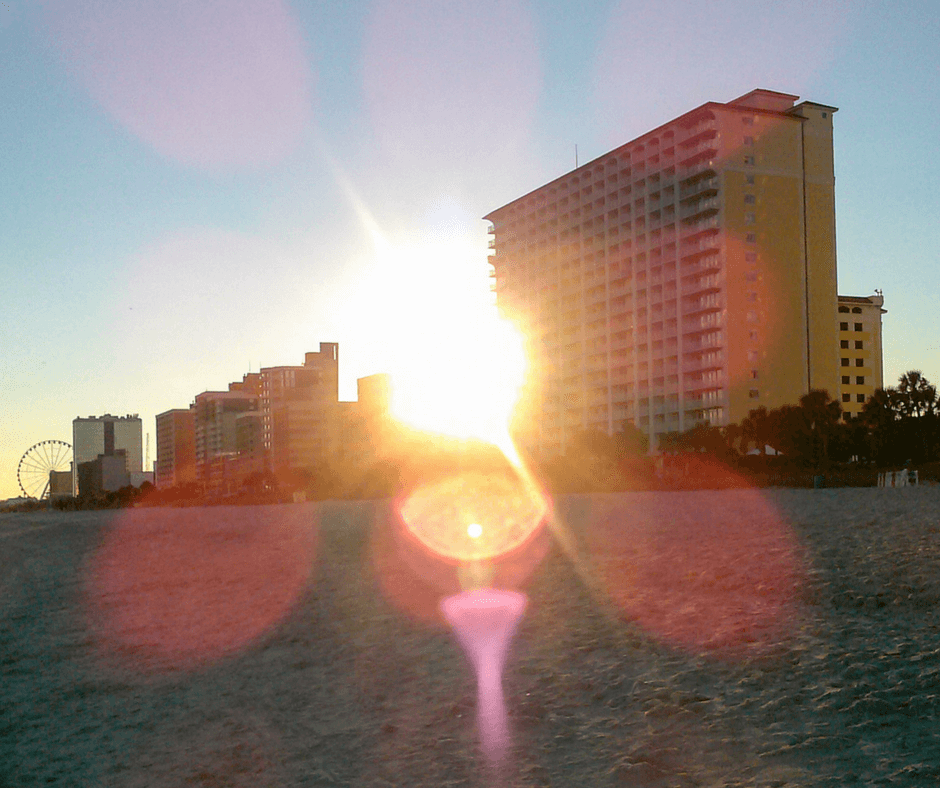 Being a South Carolinian I'm Planning a Trip to Myrtle Beach every summer!!….and often in the winter too!
So let me tell you in 7 easy steps how to plan your next trip to Myrtle Beach…
and while we're at it I'll give you 5 Things You Must Do while vacationing on the Carolina's most visited coast…
This post contains affiliate links, which means I receive a small commission if you make a purchase using these links. It is no additional cost to you and I cross my heart I only recommend products/deals that will help you get the most out of your travel experience.
Planning a Trip to Myrtle Beach in 7 Easy Steps:
Step 1: Select Your Dates
Before Planning a Trip to Myrtle Beach you will first want to decide what time of year you would like to travel.
Peak season in Myrtle Beach is Memorial Day through August. Crowds are heavier and there are more youngin's running amuck on spring/summer vacation.
I myself like to go in the "off-season" like April or September/October just because it's a bit cheaper and fewer crowds. It's warm enough to enjoy the beaches but school is still in session so fewer kids.
Do some research online, look at the different events going on, and decide when you would like to go.
Step 2: Accommodations
Once you have your dates, or around the date, in mind, you can start looking online for accommodations.
They have great options for groups or solo travelers like me, plus they have several options for booking with little down or even no deposit at all and you'll pay once you arrive….which I really like.
I've stayed all along the Myrtle Beach strip and have found it's all about what price range you're looking for…and how much time you plan on spending on the beach, or just at your hotel pool relaxing.
Oceanfront Resorts I've stayed at in Myrtle Beach and highly recommend:
Here's $25 Off When You Book and Stay with Booking.com!! Click Here
Step 3: Transportation
Once I've settled on a few accommodation options I search for transportation options. I also decide this based on price.
I road trip to Myrtle Beach since I'm only 4-5 hours away the drive isn't bad at all. If you're looking to fly in, Skyscanner and Momondo usually have really cheap flight deals to accommodate your budget.


Once you're in Myrtle Beach you can walk the strip to many of the attractions along the boardwalk…and to an assortment of restaurants and bars.
There are also scooter, bicycle, golf cart rentals and more if the need arises…but I really like walking the strip!
Related Post: 5 Things You Must Do in Myrtle Beach
Step 4: Book Everything
After I've weighed the pros and cons of Accommodation prices vs Transportation costs I book everything.
I've tried the methods of booking on certain days and found the sooner the better. I have put together a week-long Disney Vacation in 4 days notice before so anything is possible….but always better to plan and book everything ahead of time.
Step 5: Dining Budget
Decide your daily food budget. This is where you'll decide if you're gonna budget for cheap eats or splurge.
In Myrtle Beach, I like to splurge on one thing…Seafood!!
But in Myrtle beach there are plenty of options for dining experiences…from cheap eats at the Original Shucker's Oyster Bar, to elaborate Dinner Shows at Medieval Times.
You will find something amazing, and delicious in Myrtle Beach to fit whatever your dining budget may be.
Step 6: Itinerary
My favorite part of the planning process: Planning day-to-day activities!!
I've always enjoyed going to the Ripley's Aquarium at Broadway at the Beach…and Myrtle Beach also has a Ripley's Believe It or Not Museum down on the main strip as well. Both are really fun to check out just don't forget your camera!!
Look up the events going on while you're in Myrtle Beach.
During the Summer there are concerts at the boardwalk, and nightly fireworks along the piers and at Broadway at the beach.
If you're looking for some awesome must-do experiences, like the Myrtle Beach SkyWheel, Click Here.
Step 7: Make To-Do Lists
Now that you've booked everything, know your food budget, and have an idea of your day-to-day shenanigans it's time for the List-Making!!
– What to Pack: I bought a Packing List book
at a travel shop while on vacation a few years ago and use it for every trip I take. It's an absolute lifesaver! I'm a minimalist traveler so I normally take the basics and bare necessities.
– Needs Before Trip: After you make your Packing List, make a list of the things you need to purchase before you leave. (Toothpaste, deodorant, sunscreen, chapstick, etc…)
– Outfits: Layers…I always go with layers when traveling. Also, check the weather a few days before leaving to add or remove any necessary items. Don't forget your swim-suit!!
I hope this Step by Step Guide to Planning a Trip to Myrtle Beach was everything you need to help plan your next trip to the beautiful Carolina coast!
All you need to do now is Subscribe below to receive my Printable Things to Do Before You Travel Checklist FREE and then head over to my "one-stop shop" for all of the items recommended on this site!
Click Here for my must-have travel essentials!!
Enjoy your Journey!!
Subscribe Now for this Travel Freebie!!
Related