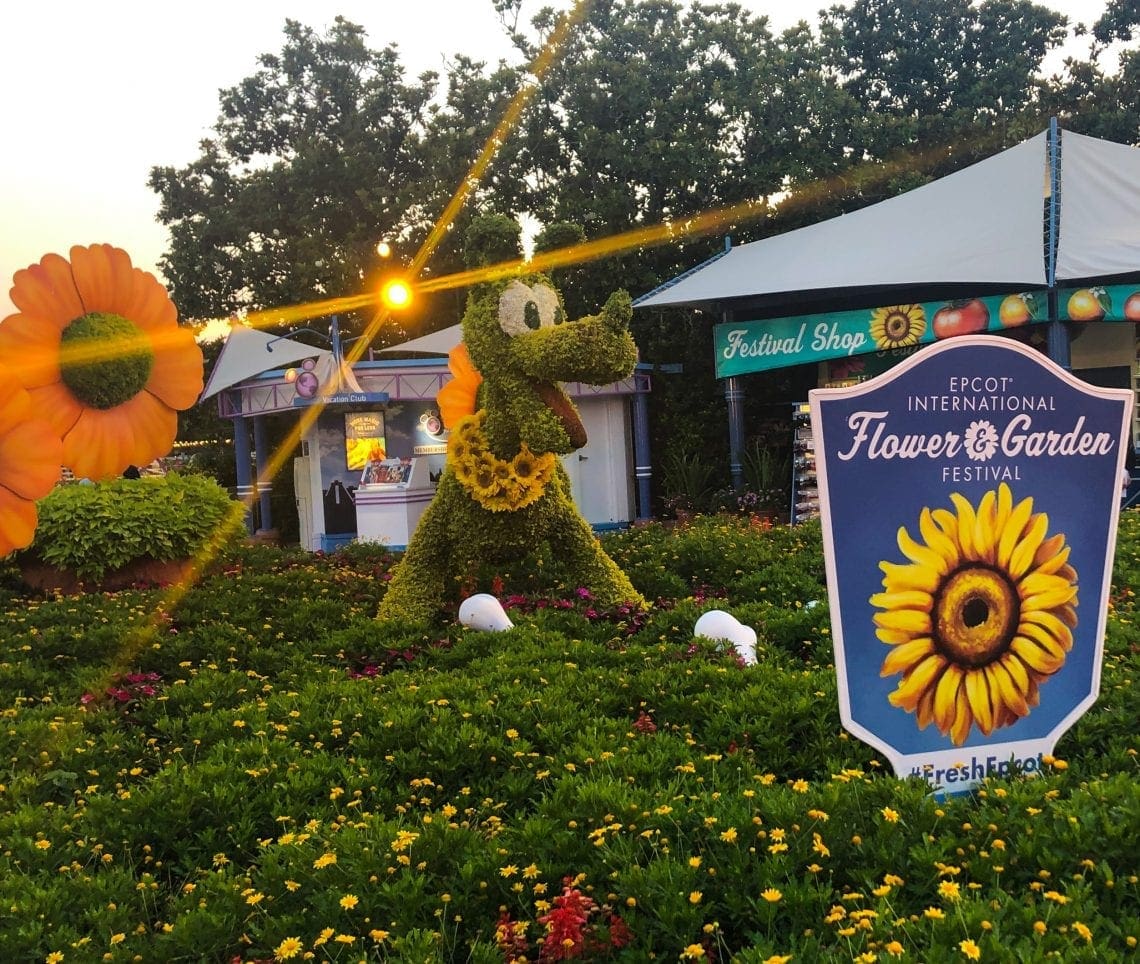 2019 Epcot Flower and Garden Festival Favorites
We've just returned from a fantastic trip to the 2019 Epcot Flower and Garden Festival and this year we have plenty of favorites to share with you! 2019 marked our 4th year in a row attending this fun festival and it was a hot one this year.
Last year we were at Disney World on Memorial Day and we thought it was hot then… May 2019 set record heat waves across the US with temperatures hitting 103 in some places.
We most definitely felt it in Orlando with a high of 101 almost everyday we were there. But hey… I'm not complaining. It's Florida in May, we knew it'd be hot, so we took precautions to make sure we stayed as cool as possible.
2019 Epcot Flower and Garden Festival Favorites
For 2019, Epcot brought back some well known festival favorites, moved some topiaries around, and added some new and additions to the bunch.
The Festival Passport, which you can pick up at the park entrance or at any Outdoor Kitchen, got its own update from last year…
and the years before…
Related Article: How to Get the Most Out of the Epcot Flower and Garden Festival
Outdoor Kitchens
The best thing at this festival, in my opinion of course, are the outdoor kitchens.
Epcot sets up 13-15 outdoor kitchen booths in between each country with perfectly portioned plates and drinks you can try. We typically share so we can try as many different booths as we can.
Some of our favorite booths were the…
The Citrus Blossom located in Showcase Plaza was a new addition to the 2019 Epcot Flower and Garden Festival and a welcomed one for sure!
We tried the Lobster Tail…
which was smothered in a buttery-lemon sauce and served with a lemon wedge. I love it… but my boyfriend liked the Tuna Tataki we also got, a lot better.
I was honestly a little confused by this dish upon looking at it. I bet you are too!! It's seared tuna with a spicy yuzi glaze(that I didn't care for), mango, avacodo and some leafy greens atop a pappadam crisp. Now I've never heard of a pappadam crisp but I would describe it almost like a harder chalupa shell. The mango also helped with the spiciness of this dish. It was very beautiful in color and uniquely flavorful.
The Beef Tenderloin Tips, located at Northern Bloom in the Canada  Pavilion, have been a favorite of mine since the booth opened in 2017!
The meat is cooked medium rare and falls apart in your mouth. Delicious. There are small potatoes and a carrot as well as whipped potatoes. I think this year it was perfect considering how hot we had gotten and needed something hearty but not overfilling.
The Smokehouse BBQ & Brews located in the American Adventure Pavilion was one that I had tried at last years festival and I can't see walking by this booth and not being able to stop. There are two huge smokers outside of the booth cooking up nothing but southern goodness…and the smell drags, not pulls, you in!!
We tried the Beef Brisket Burnt Ends and Smoked Pork Belly Slider this year….
I've never actually tried pork belly before but this little slider was messy and delicious. The sauce you see is a cheddar fondue… which should be put on everything!! I also highly recommend the bbq pork slider with slaw from here too!
New Finds
I also found a few things around the park that were just lucky gems we came across…
Blueberry Banjo Frosty in the Canada Pavilion…
A mixture of Blueberry Vodka, Blueberry Infusion and White Cranberry juice. You can get this without the alcohol as well. It was just what I needed to cool me down a bit…and speaking of something to help cool us down…
We came across what's called the "Donkey Cart" in the Italy Pavilion. They sell mixed cocktails and have recently added wine popsicles to their menu!
They offer a Limencello, a Sparkling Strawberry, a Berry Sangria and a Strawberry dipped in Chocolate.
We chose the Sparkling Strawberry Wine Popsicle and it was buzz worthy! There was a huge chuck of fresh strawberry inside…yummy!
The Snake Bite from Rose & Crown in the UK Pavilion is something I fell in love with you can get it all year long at Epcot!
This place is usually crowded so I haven't ventured in before, but my boyfriend spent several years in England while deployed so he wanted to see what the menu and inside décor looked like. He suggested the Snake Bite from the bar menu, which is a lager and cider mixed…and it was amazing! I'm not big on trying different lagers or ciders but this drink was a winner! Also….make sure you have the bartender add a splash of blackcurrant!!
Topiaries & Gardens
I'm curious…
why is Daisy so sassy?!?…
Do you know?! Tell me in the comments below!
Bambi, Thumper and Flower are always adorable!!…
Snow White and Dopey received a new location and are just cute as can be…
Ch-Ch-Ch-Chip and Dale!!!…
Of all the Gardens set up around Epcot the Goodness Garden Butterfly House is one I can't miss on each trip.
You end up with the most amazing pictures in here!!
and it's very educational…
The Floating Flower Gardens…
But all the hype is the Toy Story 4 release…
so this year there were several additions to the Woody topiary including Buzz, Bo Peep and her sheep!
A Toy Story 4 themed play area called Bo Peep's Playtime Training Grounds was also set up for the kids to play and burn some energy!!
It was another wonderful year eating and exploring our way around the Epcot Flower and Garden Festival…
What's you favorite at this gorgeous festival?
Let me know in the comments below!
Enjoy Your Magical Adventure!!
Love this Article?!?
Save it for Later…