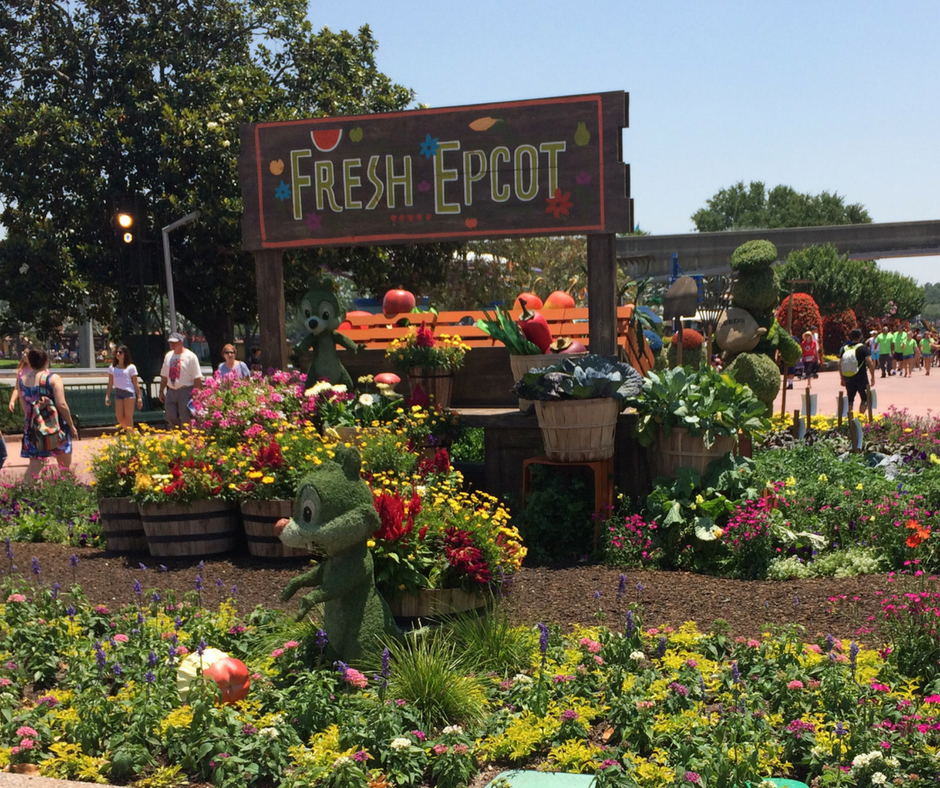 What I'm Most Excited About at the 2018 Epcot Flower and Garden Festival
Along with many other reasons, I'm Most Excited About at the 2018 Epcot Flower and Garden Festival because this year marks the 25th Anniversary of this event… and our 3rd year in a row attending!!
By the time we are at Disney World for the 2018 Epcot Flower and Garden Festival, it will have been in full swing for almost 2 months! So I will have to endure all of the amazing photos, vlogs, and blog posts up until my trip…it's going to be tough but it's going to make my trip even better seeing all those reviews!
What I'm Most Excited About at the 2018 Epcot Flower and Garden Fest
ival
A Flower & Garden Makeover
There is a lot of NEW stuff at this year's Flower and Garden Festival and I am stoked to see the makeover that the festival has gotten for 2018.
The 2016 & 2017 Flower & Garden themes were kind of the same.
This year the themes have changed up and I'm really loving the revamp.
The colors are very bright with teals, purples, pinks, yellows, blues and more exciting colors to put you in the mood for spring!
New Merch
For the 25th Anniversary, Disney has launched a new line for this year's festival, and it's almost like a hippie Minnie Mouse
line, called Minnie's Farmhouse Flower Shop.
There are also 2 other new styles this year and unlike previous years where you could only find the Festival Merchandise in Future World, this year it will be in various locations around World Showcase.
This is also because they've shut down the main Festival Center that was located behind Mission Space.
So far the rumors are that Disney is working on a Mission Space Restaurant that will go inside of the Festival Center Building. Stay tuned for future info on this!
New Passport
The 2018 Epcot Flower and Garden passport has gotten a revamp from previous years and is looking all teal and fun.
The Passport is filled with lists of topiaries, gardens, outdoor kitchens, and more fun stuff you can see and do at the festival. Make sure to pick one up as well as the Epcot Park Guide Map!
Related Post: How to Get the Most Out of Epcot's Flower and Garden Festival
New Giftcard Wristlet
This year there is a sunflower!
You can pick from 3 designs but I want and must have the sunflower. This little gift card is also a handy way we keep up without alcohol budget. It can get pricey drinking around the world at Epcot.
Last years gift card was a scratch and sniff orange so I'm curious if this year is scratch and sniff as well!
New Topiary
Last year there were several new topiaries including Figment and the Farmers Market Stand with Chip and Dale but it appears this year the only new topiary is going to be the one at the Main Entrance…and this one changes each year.
This year it will be Mickey, Minnie, and Goofy again like last year and I can't wait to see how they look!
Garden Rocks
I will say I'm bummed out that the dates we're attending no one will be performing at the Garden Rocks Concert.
Major buzz kill I know…but I'm sure we will have an amazing time regardless. Smashmouth, Rick Springfield, Jo Dee Messina, and Survivor are just a few of the performers at this year's Flower and Garden Festival. Be sure to check your dates to see who is performing when you attend the Epcot Flower and Garden Festival.
New Scavenger Hunt
Along with the Easter Eggstravaganza Scavenger hunt map for $5.99 you can now purchase a NEW map called
Spike's Pollen Nation Exploration. On this scavenger hunt, you will search for Spike the Bee as he pollinates around Epcot!!
We really like the scavenger hunts at Disney World and these can be found all over the resort at hotels, Disney Springs, the parks, and more.
Just ask a cast member where the closet scavenger hunt is and they will point you in the right direction!!
Now last but not least…
What Am I the Absolute Most Excited About at the 2018 Epcot Flower and Garden Festival?!?
The food of course!!
Outdoor Kitchens:
The Outdoor Kitchens that Epcot sets up during Special Events are incredibly unique. While we've tackled a few of the markets during our previous visits to the Flower and Garden Festival we have tried more of these type kitchens at the Food and Wine Festival.
Each Outdoor Kitchen has 3-4 food items to choose from, along with a selection of specialty alcoholic and non-alcoholic drinks.
My goal on this trip is to try as many of the kitchens that I haven't tried before. I do have a list going of what I really want to try. I'm not going to describe the menu in full detail here…I'm just going to name what we plan to try.
Related Post: Spring at Disney World Bucket List
Just a Few Kitchens that are a Must for Our 2018 Flower and Garden Epcot Day:
Hanami- Japan Pavilion
My favorite market during this festival and the Food and Wine Festival is always Hanami in the Japan Pavilion!! So Hanami is a must and this year I believe we are going to try the Frushi. It's been on the menu for the last 3 years I know of and I have seen that it's a fan favorite so we'll try it!
Last year we had the Ahi Tuna Poke and it was delicious. It doesn't appear to be on this years menu but there is a Teriyaki Salmon that has replaced it.
Berry Basket- Showcase Plaza
I really want to try the Island Grove Blueberry Moscato. Moscato is my favorite and I have no doubts I will be trying many a Moscato had at this festival.
Northern Bloom- Canada Pavilion
Ok, so Northern Bloom has 3 things on the menu that I want to try so no doubt I will be trading one of my Quick Service Meal Credits in for 3 snacks.
If you didn't know you could do this with your Disney Dining Credits please head over to my Complete Guide to the Disney Dining Plans. I have several little tricks that help us out while traveling to Disney.
Northern Bloom has these Seared Scallops, Beef Tenderloin Tips a Grilled Maple Pound Cake and wait for this one…a Maple Popcorn Shake with Crown Royal Whiskey. What?! Picking just 3 is going to be tough. be sure to watch that day that I go live on FB.
Bauernmarkt: Farmers Market- Germany Pavilion
Ok so this one is getting raves already for the Toasted Pretzel Bun topped with Black Forest Ham and Melted Gruyère Cheese.
I LOVE the Gruyère Cheese at Disney.
They use it on many things but my absolute favorite is the Croque Monsieur at Be Our Guest Restaurant inside the Magic Kingdom. If you haven't had it it's delicious…not too heavy for mid park-day…try it. You'll have to get a dining reservation in advance for Be Our Guest but the entire experience is definitely worth it.
Getting back to the Pretzel at Bauernmarkt I've watched a few F&G vlogs this past week and it's been getting really good reviews and I think it will pair well with a Beer Flight.
Florida Fresh- Between Morocco and France
Florida Fresh has Spicy Blackened Shrimp and Cheddar Cheese Grits and I've heard the grits here are really good so I'm really excited to try these
The Smokehouse: Barbecue and Brews
This is another one of my favorite Kitchens at Epcot and the restaurant at Disney Springs is another fave of ours too. Y'all know I love my Turkey Legs!!
We've had the Pulled Pork Sliders on the menu and they were amazing so this may be another that we'll trade in a meal credit to get 3 items. They have Beef Brisket Burnt Ends and Smoked Pork Belly Slider, Beef Brisket Burnt Ends Hash, and Warm Chocolate Cake. Yummy.
Honey Bistro
The NEW booth being added for 2018, the Honey Bee-stro, will have various menu items with guess what…HONEY!!
"Bears love honey and I'm a Pooh-Bear so I do care so I climb there…time for something sweet!"
There is a Cheesecake and a Cobbler Freeze on the menu so this kitchen is a must! It's a Honey-Mascarpone Cheesecake with Orange Blossom Honey Ice Cream. Really…can't wait…mouths watering…ugh How many more days until I leave??  The Cobbler Freeze is Honey-Peach with Blueberry Vodka!! I just can't!! But I must!!
Ok, I'm getting too excited so  I'll do just one more…
We'll say either the La Vie en Rose Frozen Slush at Fleur de Lys or the Kung Fu Punch at Lotus House.
>>Let me know which one I should choose in the comments below!!

Love this Article?!
Want to use it in planning your trip to the 2018 Epcot Flower and Garden Festival??
Save it now: