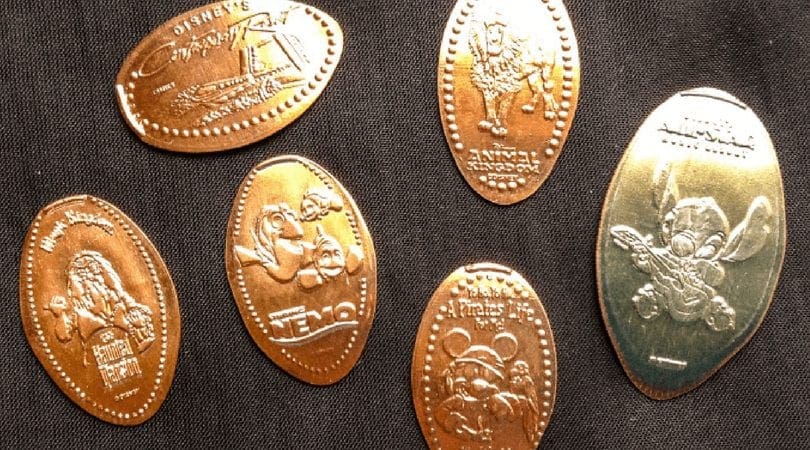 Quick Guide: Disney's Pressed Penny Souvenirs
What an awesome and inexpensive souvenir!! For 51 cents you can bring home a super cool Disney Pressed Penny with a Disney design of your choice!!
There's even these really cool collection books and holders to store your pressed pennies/quarters!!

What are Disney Pressed Penny Souvenirs?!?
It takes 2 quarters for every penny(51 cents) or if your pressing a quarter its 4 quarters($1.25). Before inserting your change you will want to select the design you want to imprint.
Typically there are 3-4 designs to choose from. Make sure your change is all pointing with the faces to the right when you insert them in the slots as the diagram shows on the machine.
Some machines you will turn the knob until the penny drops, the design is pressed into the coin, and the process is complete…the newer machines you simply press a button.
Disney Pressed Penny Machines Locations:
All over the place!!!
A map with the location of the machines can be found at Guest Services at each park. Each Disney park has 20+ machines. Disney Springs has 15+ locations! The Disney water parks and mini golf have machines!!! Even the Disney Resorts have machines!!
Carrying your Change
I keep this simple…I count out the amount of pennies and quarters I want to spend and divide it up by park (it's 2 quarters for every penny…51 cents).
I label the Ziploc bags with the park names…i.e. Magic Kingdom, Epcot etc… I only carry the ones needed each day.
Carrying around a bunch of change with your Disney Park Gear can get heavy. 
Additional Info:
~ After a little research on the pressed pennies I did learn that the pre-1980's pennies are better because they were made with real copper. You would just need to polish them before your trip. I find it easier to take a couple of dollars to the bank and get brand new rolls of pennies. Totally up to you!
~ I've pinned many awesome projects on Pinterest dedicated to turning these pressed pennies into DIY jewelry, Mickey Head displays, and many other cool ideas, to my Disney Magic board on Pinterest. 
~ I recently used the new digital machines that have been installed in select locations on the Disney Property. You can use your debit card now to purchase several penny designs at once. Super convenient. 
Have you used the pressed pennies before? Which is your favorite location and character??
Let us know in the comments below!!
Save for Later:
For Future Travel & Adventures:
Weekly Newsletter: http://eepurl.com/ceJAm9
You can also follow Vivacious Views on:
http://Facebook.com/VivaciousViews
http://Instagram.com/vivaciousviews
https://vm.tiktok.com/ZMRJjJ15K/
http://Twitter.com/vivacious_views
http://Pinterest.com/MyVivaciousView