Stitch's Holiday Gift Hunt @Disney Springs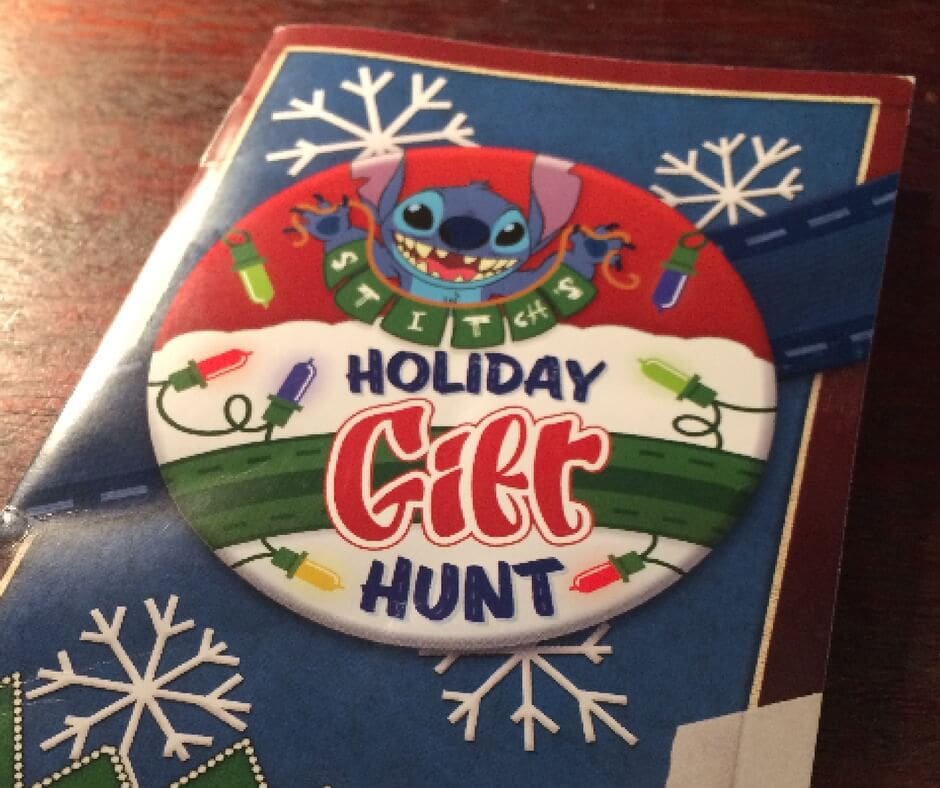 If you're looking for a holiday button at Disney World, Stitch's Holiday Gift Hunt Button is definitely a rare find.

We luckily came across a Photo Pass photographer at Disney Springs that gave us information on how to get this special Holiday Button.
She noticed that we were in our Mickey's Very Merry Christmas Party shirts and said we looked like 2 people who would love to go on a Holiday Scavenger Hunt….and she was right!!
It wasn't just any Holiday Gift Hunt…

it was a Stitch Style Holiday Scavenger Hunt which made it even more cute and fun!
The goal was to head around to 10 different stores at Disney Springs and find where Stitch was hiding!! Once you found him, Stitch was holding an item that matched the stickers in the book.
After matching all the hidden Stitch's to their sticker items there are locations listed at the front and back of the booklet directing you to where you can pick up your Holiday Stitch button.
It was a fun scavenger hunt and definitely worth the button. Everyone asked us where we got it, including cast members, so it made us feel extra magical!!!
Bonus Tip:
Some of the stores did an amazing job of hiding Stitch!
If you can't find him just ask one of the sales associates to give you a little hint!!!
Enjoy Your  Magical Holiday Gift Hunt!!!
#Stitch's #Holiday #Gift #Hunt #Button @DisneySprings #wdw #travel #disneyblogger #OnTheBlog #blogpost #Disney #rt https://t.co/BLs9DN7i5j pic.twitter.com/rtGl6Cabfk

— VivaciousViews (@vivacious_views) December 20, 2016
Related