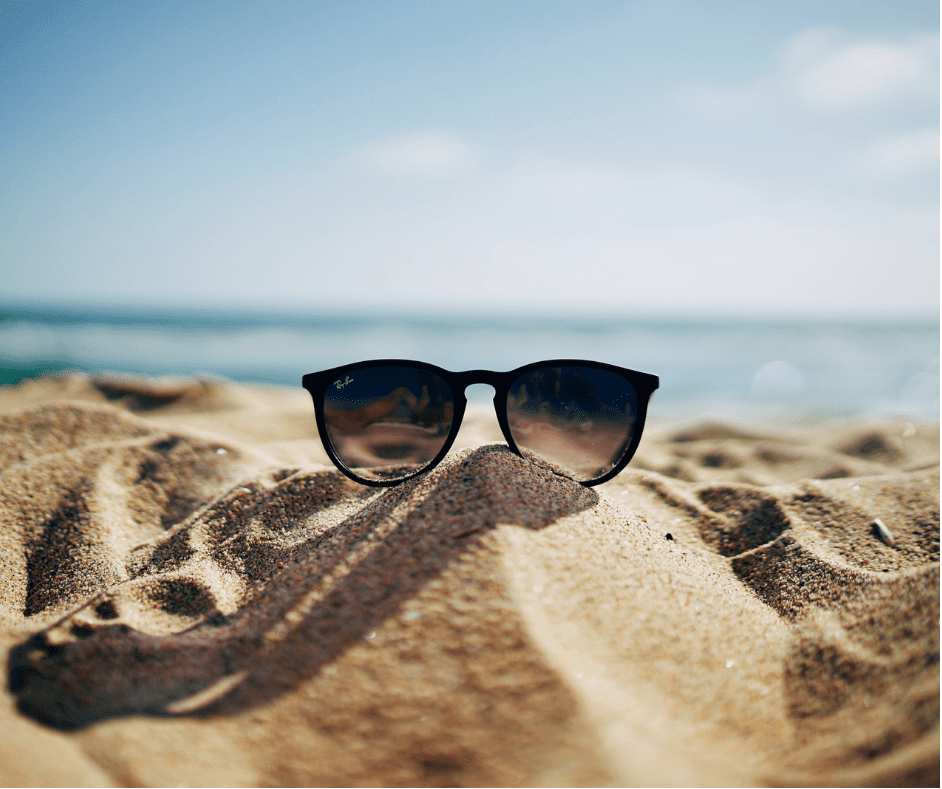 12 Beach Essentials You Must Have This Summer
These beach essentials are exactly what you need to make your next beach trip stress-free!
12 Beach Essentials You Must Have!!
Sunglasses
100% UV protecting Polorarized Sunglasses are exactly what you need to shield your eyes from the glaring summer sun! This pack comes with 3 pair and various colors to choose from.
Sunscreen
I pesonally use an spf sunscreen of 50 or higher. I'm not too picky when is comes to a name brand…I really like this Coppertone Travel size lotion. It's not greasy and doesn't take up alot of room in the beach bag!
Sand Remover
This little invention is genious…but also like why hasn't anyone thought of this before!! Great to easily brush and clean the sand of your feet, the kids toys, the cooler wheels, or anything that has sand on it before getting in your car!
Wet Wipes
After brushing the sand off with your handy-dandy sand brush you'll feel more refreshed after using these outdoor wet wipes. They're perfect for after a sweaty, salty beach day! Made with natural alore and vitamin E plus they're 100% biodegradable!
Beach Towel
The perfect beach towel is oversized, sand proof, lightweight, absorbent, and dries quickly…this towel does just that! Plus lots of different designs to choose from!
Related Article: Step-by-Step Guide: Planning a Trip to Myrtle Beach
Waterproof Bluetooth Speaker
I have this waterproof speaker and I highly recommend it! It easily connects to my phone and Spotify account. The sound is amazing and because it's waterproof I don't have to worry about having it on the beach with us. The battery lasts all day long and into the night which is great for the led light 6 colors that you can change to illuminate the area around the speaker! Super cool!
Chair
This Tommy Bahama backpack cooler chair with a storage pouch and towel bar is the comfiest beach chair! Bonus that it lays flat to carry and stores easily!
Beach Hat
A beachy fedora hat is a must have for a beach day!! This one is foldable, packable and adjustable with a strap underneath and over 20 different colors to choose from to match any swimsuit!!
Water Bottle
I've talked about this water bottle in several of my travel tips articles! I love it. It has a purifier inside and allows me to track my water intake daily! I take this one everywhere with me…especially to a beach day!!
Cooler
A cooler with drinks is a must have and this one rolls so easy on the sand! We've had ours for almost 2 years now and it holds up to 84 cans plus has a lid with 4 cup holders which comes in handy on the beach. Also we loaded it with ice for a 9 hour disney road trip and the ice stayed cold for the entire road trip plus several days!
Ice Packs
If you're looking to save space in your cooler and don't like the idea of lugging ice these reusable freezer packs are what you need!
Beach Bag
The ultimate beach essential is definitly the beach bag. This one is sand and waterproof with lots of room for towels and all the other beach essentials we mentioned above!!
Thanks for Stopping By!!! Enjoy Your Summer!!
Love this Article?!
Save it for Later:
This post contains affiliate links, which means I may receive a small commission if you make a purchase using these links. It is at no additional cost to you and only helps us to bring you more travel tips and deals!!