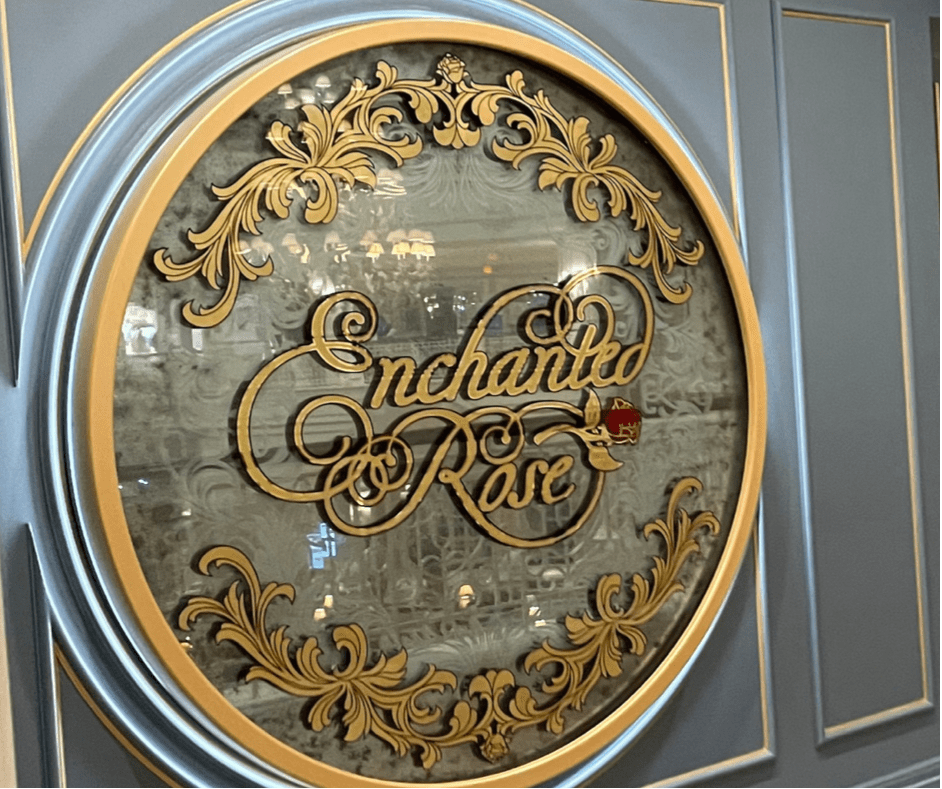 Disney's Grand Floridian and the Enchanted Rose
On day two of our recent Disney World trip, we headed over to the Grand Floridian Resort for dinner at the Enchanted Rose.
Disney's Grand Floridian 
It's crazy how many times we've explored the monorail resorts and haven't been to the Grand Floridian!!
If you're looking to check it out you can drive directly to the resort or, if you're like us and were staying on Disney property, you can hop of the resort bus and go to the Magic Kingdom and then either take the monorail to the Grand Floridian or you can walk the new walkway.
We chose the walkway because of how packed the monorail station was. Which was a really peaceful walk…
and because it was right after the Magic Kingdom had closed we were able to see the Electrical Water Pageant…
As we were walking into the Grand Floridian we saw a wedding reception in progress…
This would be an amazing resort to get married at…magical!!
Enchanted Rose
We decided to have dinner at the Enchanted Rose…which reads online as a Beauty and the Beast themed lounge. I did't really get the magical Disney feeling of Beauty and the Beast from this lounge though.
There were small decorative items that reminded you of the enchanting movie and the drinks were somewhat themed…
but if you've been to Be Our Guest Restaurant at the Magic Kingdom this is nothing like that so if you're a big fan don't get your hopes up to high.
With that being said we really enjoyed our food and overall experience at the Enchanted Rose!
Our bartender was funny and the cocktails were strong…wait…maybe that's why he was funny!!
Drinks and Eats 
We started with cocktails. I ordered the Garden Daisy…
I saw this one across the bar and the color grabbed my attention…Don Julio Reposado Tequila, Midori, Lime, Cucumber and Egg Whites.
Steven ordered the Seasonal Old Fashioned…
Widow Jane 10yr Straight Bourbon Whiskey, House-made Seasonal Syrup and Bitters…
and we we ended up trading drinks…I am more of a bourbon girl myself and for me the Garden Daisy had a little too much tequila. Steven loved it and I loved the old fashioned so it worked out!
Then we ordered the Artisanal Cheese Selection and the Truffle Fries.
We realized how much we loved cheese boards on our Wine Bar George adventure in Disney Springs. We've been addicted since!
The cheeses were delicious…I can't remember what they all were sadly but the pine nut bread was flavorful and once again the only cheese I didn't like was the bleu cheese.
The truffle fries…guys where do I start?…
I want to put truffles on everything!!! Disney fries are in a category all their own but you ad truffles, aged Parmesan and garlic aioli and you've got yourself fries you'll dream about after your trip…
I know from experience!
Our last drink was kind of a dessert cocktail to finish our night and it was a concoction made up by the bartender. He described it as a fruity Mojito…
If you scroll through the Instagram post above you can see it!!
I thought it was very tasty and had muddled blackberries which I love in cocktails!!
All-in-all the Enchanted Rose was a little pricey for us…but something I would recommend if you have the time…and extra money!
YouTube Launch!!
We are launching our YouTube channel on Thursday, July 1st!!
We will begin posting daily videos of all of our travel and daily adventures, travel tips, hotel reviews, good eats, daily fun and much more!!
Be sure to Subscribe to our Channel below to be notified of all upcoming vids and more surprise trips to come!!
📲 Vivacious Views YouTube Channel
Thanks for Stopping By!!
Love this Article?!
Save it for Later: