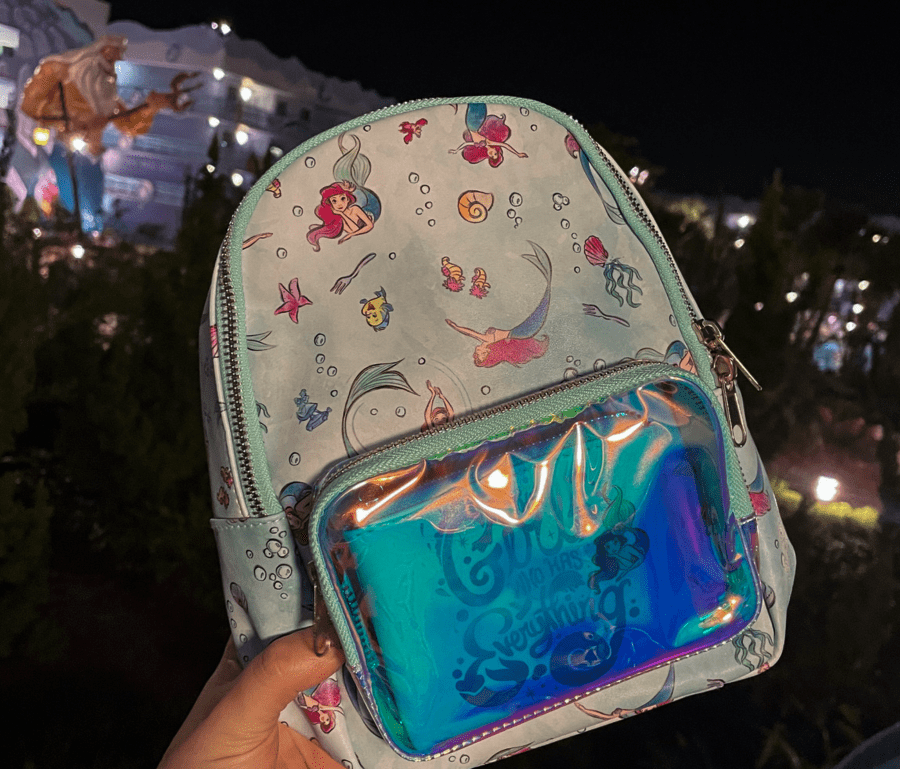 What's in Our Disney Park Bag
It's so exciting waking up knowing it's a Disney Park day…picking out your outfit…getting your stuff ready for the day…and packing your Disney Park Bag!!
Hand Sanitizer
I admit that I'm a bit of a sanitizing fool. It's a thing that I typically carry everywhere with me. At the Disney Parks, I like to carry sanitizer wipes and a bottle of gel sanitizer. Because you know…germs.
Chapstick
This is a must-have for me. My lips stay chapped in any weather so I'm always packing a couple of tubes of ChapStick© wherever I go. My favorite is the Chapstick Hydration Lock. I think I've been using this brand for about 4 or 5 years now! I really love it!
Ziploc Bags
I like to have these handy in the park for several reasons.
We used them to put our phones in on water rides, and for pressed pennies(see #4)… but mostly we used them for leftovers.
Even though we shared a lot of food the snacks and meals are typically huge at Disney. We were able to put our leftovers in Ziploc Bags and munch on them while waiting in lines or later in the day.
Camera
Something good for pictures and video. I mostly use my iPhone for pics. I tried a G7X for a couple months and for me the iphone is much more uer friendly.
Portable Charger
We took a ton of photos and used the My Disney Experience app a lot during the day so this little portable charging device
was a life saver.
We took turns recharging our phones when needed at the parks so we didn't miss any important photo opportunities. Extra battery power is a must.
Sunblock
We applied, and re-applied, and the re-re-applied…constantly throughout the day to avoid sunburn. Florida is the sunshine state after all! Sunburn on vacation is zero fun. I use the Coppertone brand that is spf100.
Snacks
Disney is one of the few parks in the world that allows outside snacks and food into the parks.
I myself normally take a pop tart or granola bar just in case I'm in a long line and get hungry or to eat on the bus while I'm park hopping.
Water Bottle
A little trick to know about the Disney Parks is that you can ask for a cup of ice water at any quick service location and they will give you a small cup for free. There are also water fountains around the parks that you can fill up at as well.
First Aid Kit
Put together a small first aid kit with band aids, Tylenol, Dramamine, Pepto-Bismol tablets, and any other prescriptions you may need to take throughout the day. I also have an extra deodorant in here for those hot summer days.
Poncho/Raincoat
If you've ever been rained on at Disney then you know exactly why this is a must in your Disney park bag!! We got drenched on one trip and bought $14 Disney ponchos so we could continue riding rides. They're also great for water rides like Splash Mountain and Kali River Rapids.
I highly recommend purchasing a poncho
 before your trip…it will be much cheaper.
Hat:
I've mentioned how the sun is no joke and having something in your bag to shade your face is a must!

Muscle Rub
My mom introduced me to this little bottle of magic on our a 2016 Disney trip and it is a lifesaver!! BioFreeze is the best for lower back, knee and even feet pain.
I used the roll-on bottle for my lower back and my knees after park hopping for 16 hours!! It was amazing!! It's also safe for children, 2 years of age and older if their knees or feet hurt as well.
Portable Necklace Fan
We purchased these neck fans last-minute before we left for Orlando and I was very skeptical about how well they would work on a 98-degree sunny day. They are life savers!!
I was not prepared for how hot our trip was and having these while waiting in line for shows and attractions definitely changed the game.
They are re-chargeable with a battery life of 6 hours with a portable charger to charge them while we took our afternoon break. A must-have in the Disney Park Bag for sure!!
Cooling Towel
Our Disney cooling rag we brought is wonderful.
Good Bag
Any bag you feel comfortable carrying around all day will do. Besides the super cute design on this bag, I chose this drawstring bag because the straps are barely visible in pictures and it was great for my cell phone, park map, small first aid kit, and other Disney park bag essentials. 
What are your must-have Disney Park Bag essentials?? 
Let us know in the comments below!!
Thanks for Stopping By!
Subscribe to the Vivacious Views YouTube Channel!!
Love this Article?! Save it for Later: