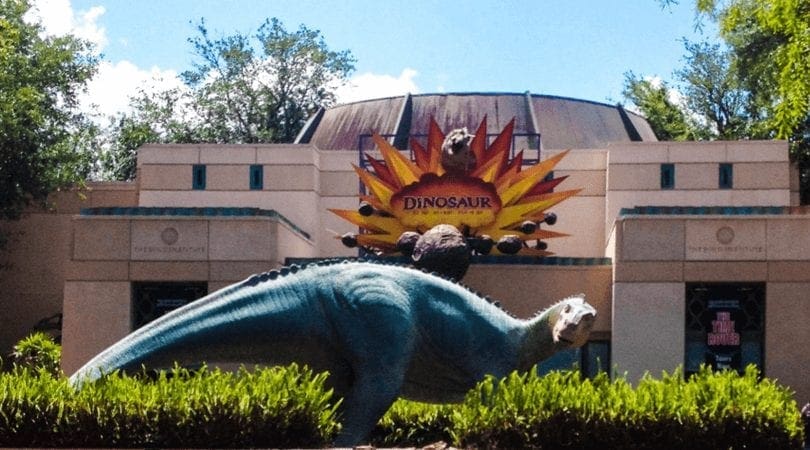 Dinosaur the Ride: Things No One Tells You
Dinosaur
the Ride at Disney's Animal Kingdom is an intense journey back in time to the meteor shower that made Dinosaurs extinct.
Climb aboard a Time Rover and go back 65 million years…
Your mission: Rescue and bring back an Iguanodon before the meteor shower makes you extinct as well!! But there are a few things no one tells you about Dinosaur and I'm digging up the dirt….get it…because of paleontologist.anyway lets go get that Dino!
Dinosaur the Ride- Things No One Tells You!
Not Originally Named Dinosaur
Opening in 1998 under the name "Countdown to Extinction" the ride name was changed in 2000 to match the film release of Dinosaur
.
The ride itself does not coincide with the movie as most Disney rides do, however, Aladar
, a main character from the movie, is there to greet you at the main entrance to the ride!
FastPass
FastPass is available, but if you ride early in the morning you won't need it.
Most people head straight to Kilimanjaro Safaris in the morning…if you head to Dinosaur the Ride before 10 am you are pretty much guaranteed to walk right on!
If you choose to head straight to Kilimanjaro Safari(which isn't a bad idea) in the a.m., then schedule your FastPass after lunchtime.
Tip: Head to Flame Tree Barbecue right after for an awesome quick service meal with a great view of Everest!!
The Queue is Awesome!
As soon as you walk up to the ride entrance you are greeted by a fossil of the T-Rex
.
The ride queue is lined with more display cases of fossils
to view and another T-Rex fossil is displayed in the main waiting area (along with air condition!) pictured below.
There is also a really cool souvenir shop as you exit the ride.
It's where I found my cute mickey hat
and a few of the other souvenirs & park gear that I brought home with me!
Time Rover Vehicle
The Time Rover you climb aboard for your trip back to the Cretaceous period holds 12 people.
Three rows…four seats per row.
Each seat is padded and has a lap belt restraint.
I suggest pulling your lap belt out a good bit before locking it in… as it can pull pretty tight on the twists, turns, and drops during the ride.
It's Kinda Scary…Especially for Kids
Very bumpy, mostly dark, small drops, flashing lights, big dinosaurs roaring so loud your vehicle will shake…
I would suggest it more for the older kids.
It's a bit scarier than they give it credit for…hence my moms face in this pic!!
I bust out laughing every time I see our reactions in our Dinosaur the Ride Memory Maker pictures!
My mom is in the front row far left… and I'm the one beside her looking in awe at the huge Carnotaurus that has popped out to scare the bejeebers out of us!
Great ride and definitely in my top 5 Favorite Attractions at Disney's Animal Kingdom!!