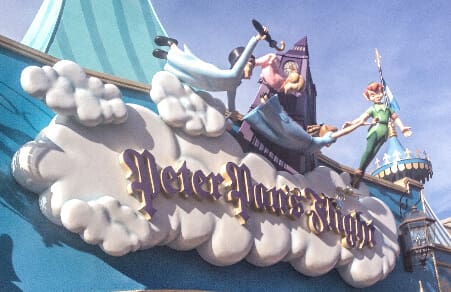 Peter Pan's Flight at Disney's Magic Kingdom
Climb aboard a magical pirate ship and soar off to Neverland on Peter Pan's Flight with Peter Pan, Wendy and the rest of the Darling Family.
Tinker Bell sprinkles you with pixie dust as your wonderful thoughts take you high above London!
You can fly, you can fly, you can fly, on Peter Pan's Flight, to the Second Star to the Right and Straight on Till Morning!

This Disney classic
has been flying us off to Neverland for 61 years now!
Opening July 17th, 1955 at Disneyland and coming to Disney World in 1971 Peter Pan's Flight 
is still a must-see attraction for children and adults alike.
"You think of a wonderful thought…any happy little thought!!"
This post contains affiliate links. Click Here for full disclosure. 
Best Time To Ride Peter Pan's Flight:
This is probably one of the few rides at Disney World that I would actually wait 45 minutes in line for…
but if you pick the right time of day you won't have to!!
The best times to ride are generally before 11 am and after the Wishes Nighttime Spectacular at night.
When I arrive at the park I typically walk down Main Street, through Cinderella's Castle and straight to Peter Pan's Flight!
After Wishes
, most people head to the exit…not me…
I head to the rides that typically have the longest wait times, like Peter Pan's Flight and Space Mountain!!
During the Festival of Fantasy Parade is a good time to ride…but only if you've seen it before!
If not you should plan on seeing the parade. It's amazing!!
"All it takes is Faith & Trust"
The Ride Queue:
If you rode Peter Pan's Flight before 2014 then you remember that waiting in line was miserable.
Most of the wait was outside and even though you were mostly under an awning, it was always incredibly hot.
Since the expansion of New Fantasyland, and the refurbishment of this famous ride, the new and improved ride queue makes waiting for this famous flight a breeze.
A good majority of the wait is inside with glorious air conditioning!
What's better than that?!
Well, I'll tell you!!….
While waiting in the ride queue you will walk through the Darling Household and be immersed into the world of Peter Pan
, before you even step onto the ride!
The pictures below do not do it justice guys!

At one point your shadow projects onto a wall with other shadow projections and you can interact with them.
When we went through there were hundreds of butterfly shadow projections on the wall flying around us.
I put my hand out and a butterfly landed on my shadows hand!!
Super cool!!
"Here we gooooooooooo….Off to Neverland!!!"
Step aboard a magic pirate ship all your own!
Fly above London as you soar along with Peter Pan
, Wendy, John, and Michael off to Neverland.
See famous landmarks from the movie including Skull Rock and Mermaid Lagoon.
Watch as Captain Hook and Peter Pan
battle it out aboard the deck of the Jolly Roger!
This must-see attraction is great for children and adults, and is a park favorite for many that come to this happy place!!
Peter Pan's Flight Additional Info:
Enjoy Your Adventure to Neverland!!!
Love this Article?!
Pin it for Later!!
Looking to Sprinkle Pixie Dust on your Inbox?! Subscribe today for exclusive Disney Tips!!