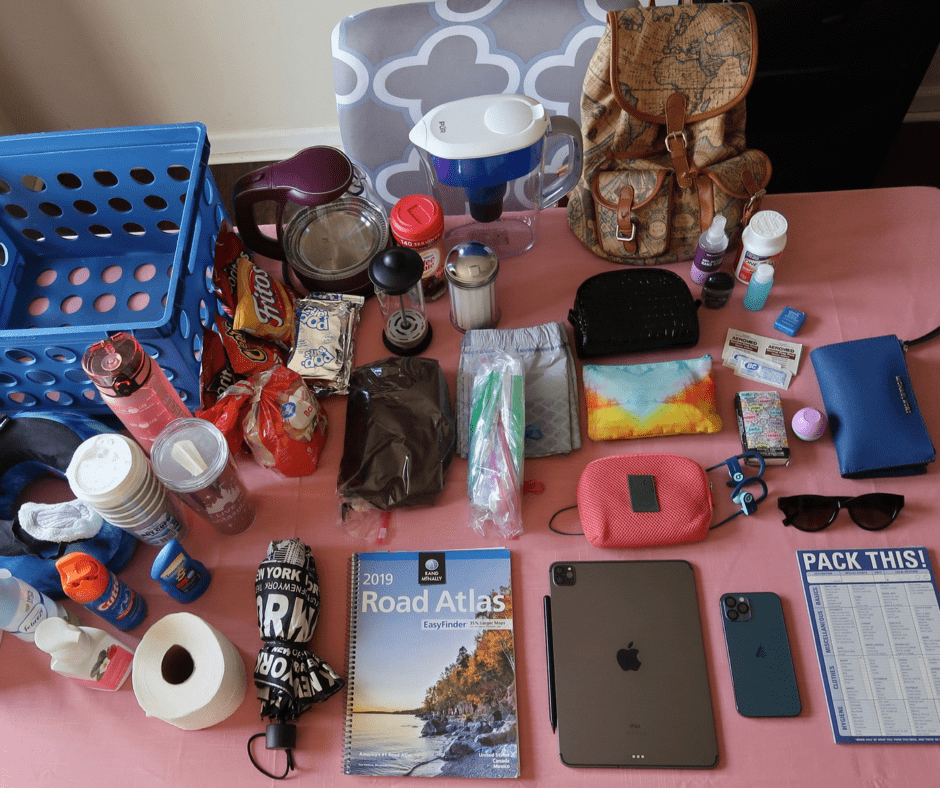 What We Pack On a Road Trip | Road Trip Pack List
We recently left for a trip down to Florida and I thought it would be a great opportunity to show y'all what is on my road trip pack list!
Road Trip Pack List
I made this video to help anyone who may be wondering what they should be packing to make a road trip just a little bit more convenient. Depending on the road trip you're taking some of the things on my list may not be for you… and some of these things you might have never even thought to bring!!
Watch Now:
What I'm Packing to Make a Road Trip Stress-Free!
Pack List
If you've read my previous articles on packing you know I love this Knock Knock Pack List. It really checks off everything you need for a trip and has spaces to add in extras you may think of. I use this on every trip I take.
Water Bottle
I typically use this water bottle most everyday. It marks the times of day to drink but is also awesome to take on road trips!
Purified Water Pitcher
We decided to take this on our last trip to save from bringing a bunch of water bottles… and also because the water in some places is hard or extra chlorinated. The taste is off sometimes so this purified water pitcher works great.
Related Article: Before You Travel Checklist w/Free Printable
Beats Headphones
The PowerBeats by Dre headphones I have in the video above are teal-blue, and I believe they may have been limited edition… but the sound is inpeccable and the additional color options are there!
First Aid Kit
This is a must for any trip. I always pack a first aid kit for every trip. Bandaids, Headache meds, etc.. whatever meds you think you may need…pack them.
Hand Sanitzer
Even before the pandemic I always packed hand sanitizer. If you're stopping to eat, have just pumped gas, or used a public restroom… it's a necessity on any trip.
Related Article: 12 Beach Essentials You Must Have This Summer
Snacks
We usually pack snacks based on what's in our kitchen. A few poptarts or chip bags help…kids get cranky…heck boyfriends get cranky…lol…bring some snacks!
Electric Kettle
My mom actually bought me this electric kettle for christmas and I love it. I use it on most road trips to make my coffee…and in a pinch you could make noodles or soup if needed!
Coleman Cooler
This cooler is super spacious. It has a extended handle and rolls…plus a lid that has 4 cup holders. It easily can be drained of water and can keep everything cold up to 5 days. We really like this cooler and highly recommend.
iPad 11 Pro
I've had this iPad 11 Pro for almost a year now. I personally do everything that has to do with Vivacious Views with this iPad. It has a long battery life and TrueDepth high quality camers helps…plus it's great to read on or entertain yourself during a road trip.
YouTube Launch!!
We have launched our YouTube channel!
We will begin posting daily videos of all of our travel and daily adventures, travel tips, hotel reviews, good eats, daily fun, and much more!!
Be sure to Subscribe to our Channel below to be notified of all upcoming vids and more surprise trips to come!!