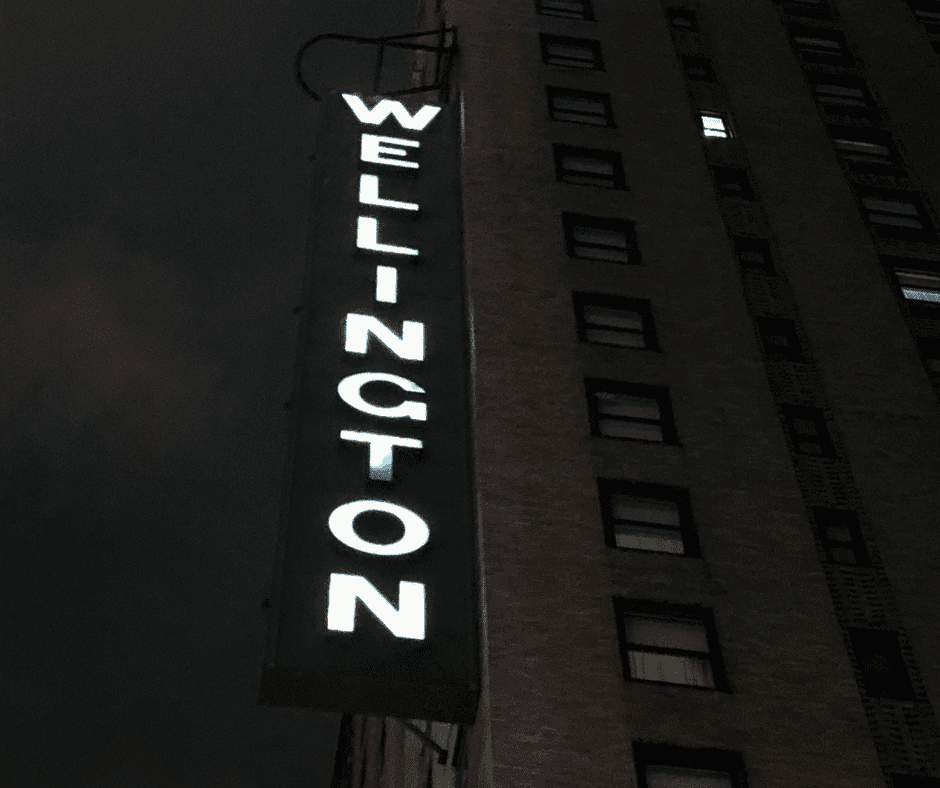 Wellington Hotel in New York City Review
On my recent trip to New York City, I was lucky enough to be sponsored by the Wellington Hotel to review their accommodations. And I must say… for it being my first sponsored hotel review in New York City I felt like I hit the jackpot!
This hotel was equipped with a valet, bellhops, a 24-hour reception desk and much more!! 
Wellington Hotel in New York City Review
Location: 871 Seventh Avenue at 55th Street, New York, NY 10019
Check-In: 4pm
Check-Out: 12pm
The location of the Wellington Hotel was perfect. Just a 10-minute walk to Times Square, 5-minute walk to Rockefeller Center, and a 8-minute walk to Central Park.
Located in Midtown, it's at the center of so many attractions, shops, eateries and more! We were able to walk most of the places we adventured out to, right from the hotel!!
Lobby: 
The lobby decor reminded me of one of something you would have seen in old movies like Breakfast at Tiffany's or An Affair to Remember. I loved it!
Lavish in detail and welcoming in its vintage New York City style. Oversized tan leather chairs, an enormous chandelier hanging from the ceiling and a marble fireplace that took you back in time.
If you weren't whisked away to New York in its earlier year by the lobby, the elevators showed how truly vintage this New York institution is.
I'm actually standing against the wall for this picture…I would say the two elevators in the lobby could hold maybe 5-6 people at a time…that's probably pushing it. Very small elevators.
Related Post: April Trip to New York City
The Room:
We stayed on the 21st floor in room 2138 in a Standard King room that included a king size bed, with a
small nightstand on the left, and a writing desk with an office chair on the right.
Atop the desk sat a phone, notepad and pen, and a detailed menu for room service.
The closet and dresser space was enough storage room for 1-2 people max and suited us just fine.
The closet housed an iron and iron board, a luggage rack and 3-4 hangers.
There was also a small safe located on the shelf which we had issues with and had to call security to come reset.
The Wellington Hotel staff was extremely polite about the situation but it did take almost 30 minutes for them to fix the issue before we could put our valuables inside and head out on the town.
The dresser was located on the left foot of the bed and had 3 drawers with an alarm clock and a box of tissues sitting on top.
The flat screen TV had local channels as well as on-demand movies.
Related Post: Step-by-Step Guide to Planning a Trip to New York City
Bathroom/Shower:
The room was equipped with a full bath/shower combo and the water pressure was fantastic, especially after an 11-hour drive to New York City! There was a marble shelf that ran along the bottom of the mirror perfect for placing your toiletries while doing your make-up, shaving, etc…
A hairdryer is available in all the rooms…and notice the "Save Our Planet" card underneath the hairdryer?!
Several of the hotels and resorts I have stayed at use these "Save Our Planet" Cards in the rooms and I think it's great.
Basically, if you haven't used the towels or you plan to re-use the towel you only used to dry your hair or your only staying two nights so you plan to use the same towel again, you can put your towel on the rack and housekeeping won't pick it up.
If you leave the towels on the floor housekeeping will pick them up and leave a new set, which can be a huge unnecessary waste of water.
It's the small things that help save our planet!! #LiveEcoFriendly
The toiletries in the room included shampoo, conditioner, lotion and hand soap. Very bland, typical hotel toiletry smell. I always travel with my own travel-sized toiletries. I like the smell of mine and I only use bath and body works soap and lotion!! (who remembers that cucumber melon scent from back in the day?!)
Window Views:
The view from the room was amazing!
I almost didn't realize it was Times Square we were staring at!!
Out the window and to the left Rockefeller Center towered over us…
Which was amazing to see, seeing how our 2nd day in the city we went to the Top of the Rock.
It was my first time going at night and the views were stunning!!
There are views to the other side of the Wellington Hotel featuring Central Park…which I imagine are beautiful as well!
Related Post: 5 Things You Must Do in New York City
Dining Options:
Room Service is available 24 hours a day for a fee.
The Park Cafe is open 6 am to 2 am but I still went across the street to the Starbucks to get my caramel macchiato fix!
Molyvos Greek Restaurant is open from 12 noon to 11 pm and I've read the food is absolutely delicious…
comment below if you've eaten there before and let us know how it is!!
Wellington Hotel Additional Info Not Mentioned Above Include:
Valet Parking – $35 for 24 hours /$45 for SUV & Crossover Vehicles

Dry-cleaning Services

24-hour Business Center

Reception Desk Available 24 hours/day.

Concierge Desk: Monday – Saturday: 8am – 8pm, Sunday: 8am – 6pm

On-Site Gift Shop

Wi-Fi (free when booking directly through

hotel site

)

Non-Smoking Hotel

Complimentary safe-deposit boxes are available.
*Note: 
There is a refundable deposit of $100 if you are paying with a debit/credit card or $200 if you are paying cash. This covers any incidental charges.
At checkout, the deposit is credited to your card or refunded, if you paid cash. I used my debit card for the $100 deposit and it was back in my bank account within 2 hours of check out! It does state on the Wellington Hotel site that some banks could take several weeks. 
Concerns & Complaints
I only had two complaints during our stay…
1-The room temperature was warm and by the time we realized we didn't have air conditioning in the room we had already settled in. It shocked me to think any hotels wouldn't have air conditioning but I did find out that the upper levels did not. We chose to stay in our room with the window cracked. In April it wasn't too bad but it did get a little warm while I was getting dressed so I would recommend during check-in asking for a room with air conditioning or bringing a small fan if possible.
2- The in-room safe was a 30-minute inconvenience, especially since I was starving, but the staff was extremely friendly while handling both issues.
I thoroughly enjoyed my stay and would definitely recommend the Wellington Hotel if you're planning a trip to New York City in the near future.
Be sure to check out the Wellington Hotel official website for amazing deals all year-long!!
Wellington Hotel Brochure: Click Here
Enjoy Your Journey to the Big Apple!!
Love this Article?!
Save it for Later:
I received compensation in exchange for writing this review. Although this post is sponsored, all opinions are my own.