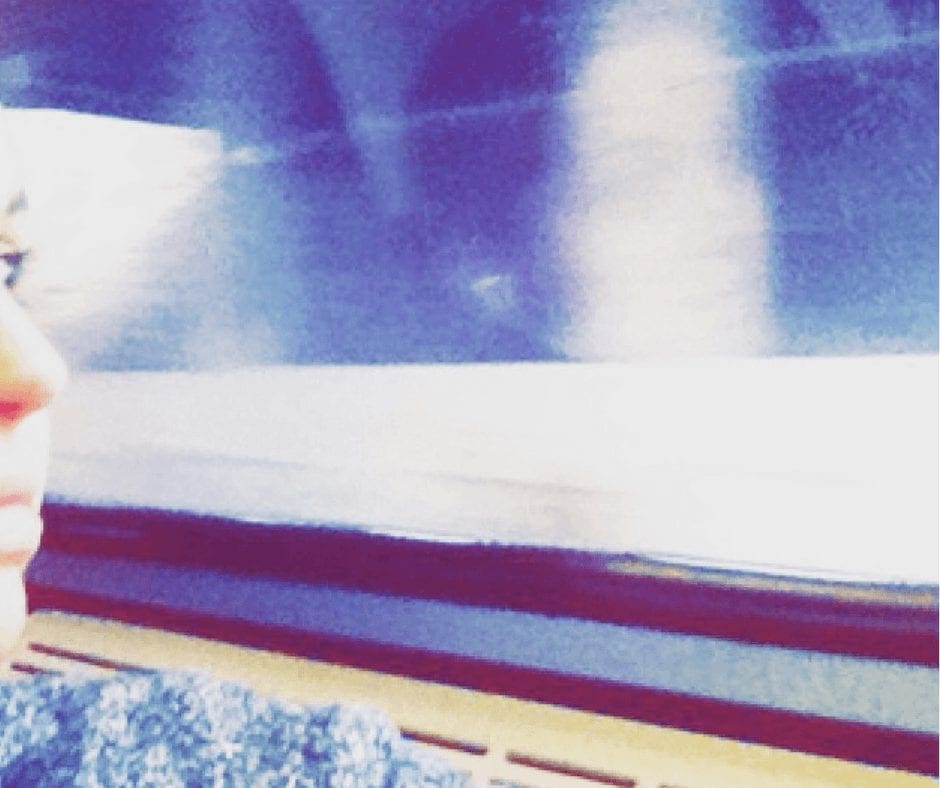 Amtrak Train Travel for First-Timers
I first rode with Amtrak in December of 2015 for my Christmas in New York City solo trip, and these tips on Amtrak Train Travel definitely came in handy for a first-timer like me.
Since then I've ridden the train for many trips and although I love to fly, I like the convenience of stepping on the train, heading straight to my seat, and skipping the security debacle that airports ensue. 
Amtrak Train Travel for First-Timers!!
"All Aboard!!"
Upon boarding the train I was given a slip of paper with my designated seat row and number on it…I notice they do this when the train is already filling up.
When I boarded the train at Penn Station for the trip home it was first-come, first-serve seats, and I was very pleased to find a window seat to enjoy the view on the ride home.
Once you find your seat there is an overhead rack for any extra bags you may have brought.
I'm a minimalist packer so at most I have carry-on luggage
or a backpack, which I put above in the overhead compartment.
I keep my day-bag at my feet that has all of the items on my train travel checklist.
Seats:
Much roomier than an airplane seat… plus you have a handy little footrest and you can recline your seat back quite and bit by pressing the round silver button on the armrest.
Most Amtrak trains have WiFi. 
I know for a fact the Crescent Train, that goes from New Orleans to New York City, does. 
Each Coach seat has a plug-in to charge your electronics if needed, which I did.
Related Post: Train Travel Checklist (with FREE Printable)
Dining & Drinks:
All Amtrak Trains offer some sort of food and drink option.
The short distance trains have a Cafe Car offering carry-out food like sandwiches, snacks, and beverages.
For medium distance trains, the Cafe Car is available as well as a Lounge car that serves up basically the same items as the Cafe Car but offers more seating. The long-distance trains offer a full-service Dining Car with hot meals 3 times daily. Reservations are suggested in advance for the Dining Car. 
Liquor, beer, and wine are also available on all dining cars.
 

Scenery:
This is something I truly enjoy about riding the train…
watching out the window as the train rolls through the beautiful scenery of backwoods America and into major cities and stations. 
"wanderlust consumed her; foreign hearts and exotic minds compelled her… she had a gypsy soul and a vibrant hope for the unknown."
I typically use this time to write or catch up on my reading, but I always make a point to gaze out and take in the sights and appreciate the world around me.
The Restrooms:
The restrooms on the Amtrak are located at the front or back of each passenger car.
They are tiny…no doubt about that.
I am standing completely against the wall to take this picture. 
As you can see it's a pretty standard restroom.
I have seen one that had a full sink and countertop space on the train from Clemson, SC to New York City so they do vary as far as the inside, but they are all basically this size right here.
I would suggest holding onto that handrail…
the train ride can get a little bumpy…just sayin'.
Additional Tips:
The Amtrak App is extremely useful in looking up delays, dining menus, or answering any other questions you may have while in transit.

Official Amtrak App Download Page.

Each person may bring (2) personal items: 14 x 11 x 7 inches and 25 lbs. max each, and 2 carry-on items: 28 x 22 x 14 inches 50 lbs. max each.

You can Check (2) Bags Free. Additional Checked Bags are $20 each.

Some Amtrak Trains allow special items such as bicycles, sporting equipment, strollers, car seats etc…

Official Amtrak Special Items page  
Enjoy Your Journey!!!
Shop My Recommended Travel Products
Claim Your FREE Checklist Today!!