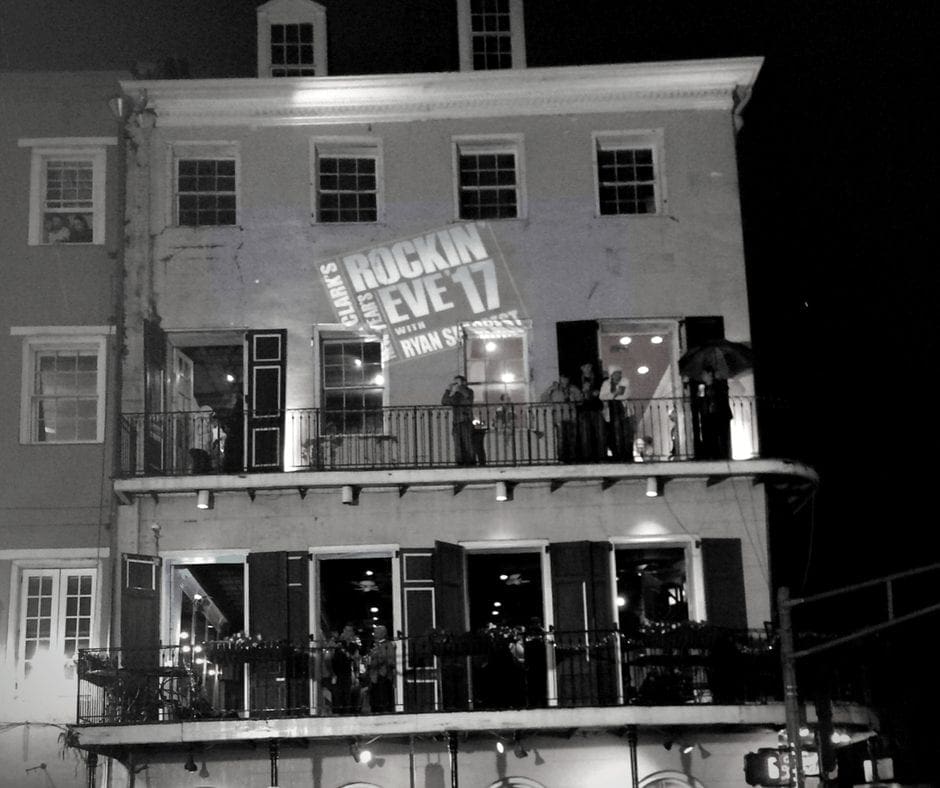 Celebrating New Year's Eve in New Orleans
I recently headed even further down south to Celebrate New Year's Eve in New Orleans. 
It was decided on a whim approximately 2 weeks before we went!!
For the first time since I began traveling regularly where we stayed, ate, bar hopped, everything was up in the air!!
It was completely left up to a buddy of mine, and he basically left everything up to chance.
No plan….just complete spontaneity. 
At first, I was very nervous about this…I am a planner…I make lists…
Most decisions on the trips I go on are decided by me, and this is mostly because I traveled solo, but every choice we made in New Orleans on New Year's Eve night was completely chosen by fate…
and what an incredible night it was!!!
This post contains affiliate links, which means I receive a small commission if you make a purchase using these links. It is at no additional cost to you and I cross my heart I only recommend products & deals that will help you get the most out of your travel experience.
How New Year's Eve in New Orleans Started…
We ventured out of the hotel into the downpour of rain and into New Orleans in search of a delicious dinner.
Of course, everything was packed or set up with a prix fixe menu, luckily we stumbled into this little-hidden gem…
The Butcher(@CochonButcherDining) was exactly as it sounds, a butcher shop with a sandwich counter and full bar…which we chose to sit at. 
I ordered the Cajun Pork Dog on a Pretzel Bun and the Rik Slave off the drink menu, which consisted of a Miller High Life and a shot of Old Forrester Bourbon.
The Rik Slave ©VivaciousViews.com
Butcher Drink Menu ©VivaciousViews.com
It was a great way to start off the night!!
Everything was delicious and the bartenders were extremely friendly.
After the lovely bartender gave us an umbrella
, left in the lost and found, we headed back out into the rain to look for our next adventure.
As we made our way down the street the bottom really fell out and it came a downpour… 
so we ducked into The District Lounge (@thedistrictNOLA).
This is another example of that fate I was talking about earlier coming into play.
Go Tigers!! ©VivaciousViews.com
It just so happened that the playoff game between my Clemson Tigers (who went on to win the National Championship!! Whoop, Whoop!!) and Ohio State was on many of the giant flat-screen TVs that lined the walls of The District Lounge.
Needless to say, I was able to watch the last half of the game and see my Tigers win while sitting at a local bar in New Orleans.
How awesome is that?!
About a block down from the District Lounge we made our way into the crowd of Lucy's Retired Surfer Bar and Restaurant (@LucysRetiredSurfersNewOrleans). 
The place was packed, but I could see why.
The beachy decor and all around "hang-ten" atmosphere of this bar is awesome.
The bartenders were swamped with drink orders but they still took the time to be sociable and friendly…
letting us know that the Dick Clark's New Years Rockin' Eve with Ryan Seacrest countdown for Central Time was being held in New Orleans
…and we were just lucky enough to be there!!! 
Jackson Square Festivities

 
After leaving Lucy's we decided to walk the 14 or 15 blocks to Jackson Square where all the New Year's Eve in New Orleans festivities were really going down!!
Lucy Hale was in New Orleans hosting the first the first-ever Central Time Zone countdown on Dick Clarks New Year's Rockin' Eve.
It was ridiculously awesome to not even know what was going on and be there for it!!
We heard Jason Derulo sing Want to Want Me, and we danced in the streets of New Orleans with random people having just as much fun as we were!
Countdown to Midnight
After dancing, singing, and meeting people from all over the world, we made our way to the water's edge of the Mississippi River for the countdown to midnight. 5…4…3…2…1… 
HAPPY NEW YEAR!!!
I wish I could have posted the entire video of the fireworks….they seemed to go on forever…
it was truly stunning to see over the river.
Bar Hopping Bourbon Street
After the fireworks ended we went in search of a good bar and a stiff drink…
and where better to Bar Hop in New Orleans than the infamous Bourbon Street?!
We stumbled into a New Orleans institution named the Old Absinthe House (@theoldabsinthe). This bar is definitely a must see in New Orleans while you are there.
The building has been there since 1806…
and it truly has a historical vibe to it…
right down to the original marble and brass fountains that can be found within its full circle bar.
We ordered the Grand Absinthe from the menu, and although I myself am not too fond of the taste of licorice, my buddy loved it…prolly a little too much!!
Late Night Snack
Being incredibly hungry, and just a little lit, we decided on late night appetizers of gator bites and Cajun oysters at Le Bayou Restaurant and Oyster Bar before heading back to our hotel.
We stayed at the Country Inn&Suites by Carlson located conveniently in the French Quarter. 
We were able to valet park the car and walk New Orleans the entire trip!! It was a fantastic location and lovely hotel.
I could not have asked for, or planned myself, a better way to ring in 2017 than an unforgettable New Year's Eve in New Orleans!!
Love this Article?!?
Save it for your New Orleans Planning: